Shopping Cart
Your Cart is Empty
There was an error with PayPal
Click here to try again
Thank you for your business!
You should be receiving an order confirmation from Paypal shortly.
Exit Shopping Cart
The photos are at the end of this post..
We have been stymied multiple times this year. It's still cold. The soil is cold. A couple of months ago we decided to do this really cool project that looked really simple. A seedling greenhouse to put all those little darlings into to get a start on spring.
We have this huge greenhouse but it needs a significant influx of cash to get it rehabbed so it keeps getting put off. The big greenhouse is 20 x 60 with electricity and running water. It needs new fiberglass windows and a bit of restructuring. When I have several thousand extra dollars it is on the list for being redone. Until then though, we are only able to look at low budget options.
One morning on the way out to see Maybelline, I had this epiphany back on a snowy day. A number of years ago...at least 8 years ago...John had built this quonset hut made out of spare boards, and fencing. We have used it to house various critters - mainly chickens and birds. There was this old tarp thrown over it for a bit of shelter. He had also made a chicken tractor in the same way...Hmmm, cover it with a bit of plastic and it could be a greenhouse...so I started hunting around the internet and there it was! I found plans for the exact same thing he had built in the past out of various junk we had lying around. Time to download those plans. We watched a video from this nice Texan and John was off!
I set about finding the plastic sheeting...I found a company down in Louisianna that had the size we were looking for and ordered a hundred foot roll. That would be enough to do 5 greenhouses...
John built this fabulous frame. He attached the fence panels and framed the ends. He constructed a door and vent window. Devised a way to open, close, and anything else we needed. John also changed the plan for the door and vent window to open out, instead of in.
The plastic was due to arrive and here I am tapping my foot. No plastic. I quickly made a call down to my Cajun friend and was quickly informed that he had sent me an email to let me know that they were out of that size...What??? I never got the email. I checked every folder...No email.
I got over that really fast. I grumbled a bit under my breath but only where my Cajun friend could not hear me... No matter, just get me some plastic! A new tracking number...all set to arrive on Tuesday.
Tuesday came with no plastic...I take my handy UPS tracking number and check the status...intercepted?? What? Why? Another call to my Cajun friend...
Well he meant to send me an email but forgot. Really!?? Apparently the guys in the warehouse sent white instead of clear plastic. He already reshipped the clear and it would come on Thursday. I had a new tracking number.
The plastic arrived on Thursday as scheduled but my schedule didn't allow me to get it on the greenhouse for a few more days. So we are now done. John even put some trim on it to finish it.
I bought a remote thermometer to keep tabs of the temperature and humidity from my office (aka Kitchen) we have a heater ready to go and today are tracking the temperature fluctuations before we put the seedlings in. Wish me luck.
Resources For Plans
You can ask John to build you one of these if you would like. It took him a couple of days and he would charge you for it but he can build it on your site. You can ask him [email protected]
All are 7 1/2 feet wide by 50", or 100" or 150" all with a center height of 6'2" . You can ask him about them. He put wheels on ours so we can move it around the yard...
OR
Use the plans that Texas Prepper 2 has available. John made some smart modifications but the original plans are pretty good. Go to:
http://www.youtube.com/watch?v=-DKlXs8iov0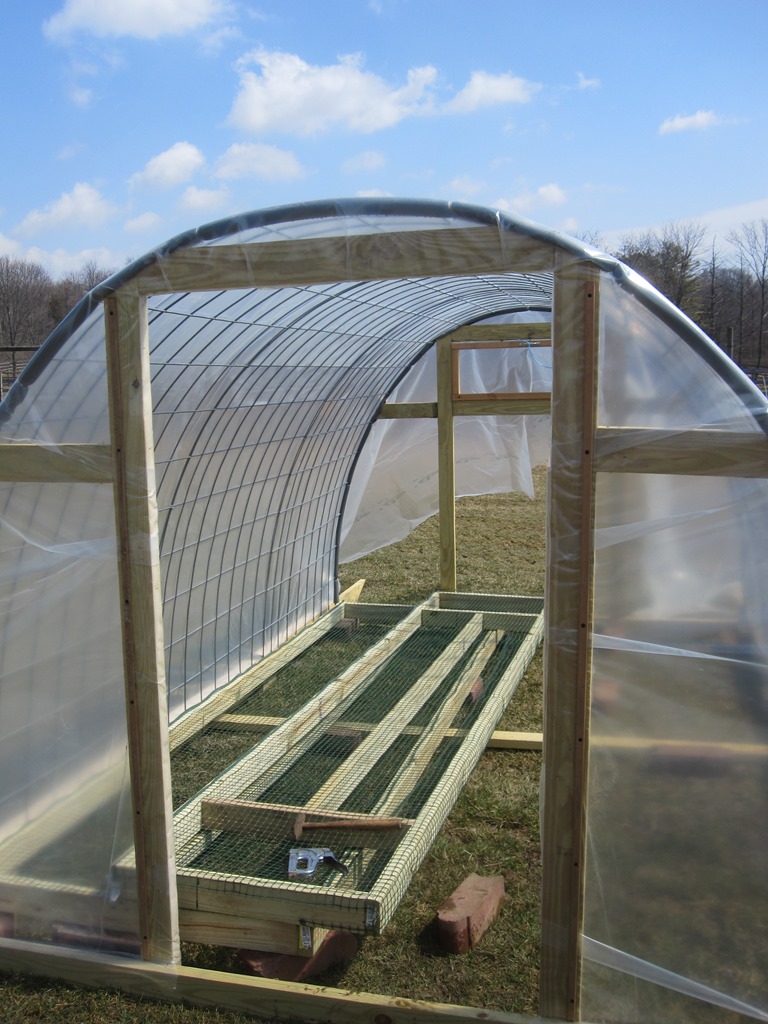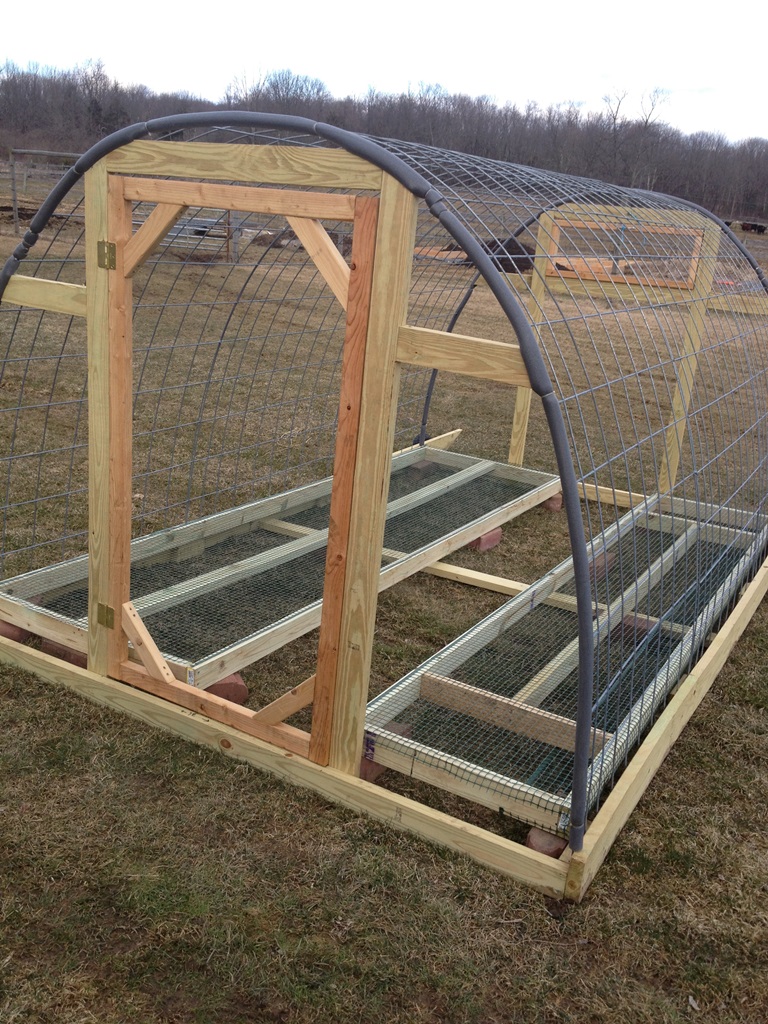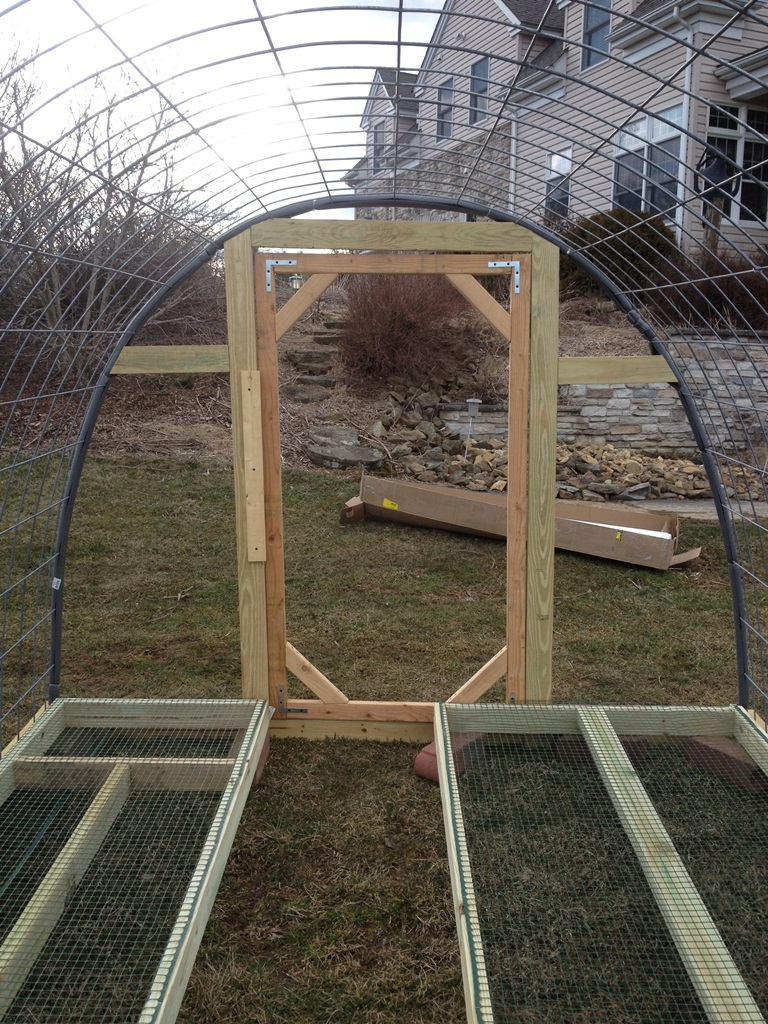 Categories: Gardening
/