Shopping Cart
Your Cart is Empty
There was an error with PayPal
Click here to try again
Thank you for your business!
You should be receiving an order confirmation from Paypal shortly.
Exit Shopping Cart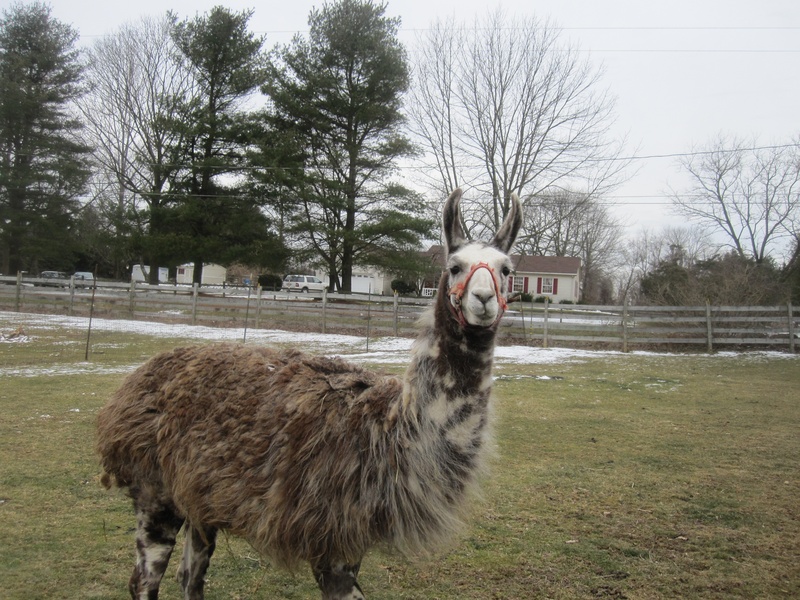 We are saddened to be sharing the news of Jak, the Llama's passing. Ironically, Jak, became the namesake of our farm.
Jak, our notoriously unfriendly llama, was a venerable 19 year old llama who diligently watched over our front paddocks. He would stalk over and watch people, and especially their dogs, come and go from the farmstand. As an inside joke, we began to refer to it as Jaklamas Farmstand. The name stuck.
Jak, who was 6 at the time, was brought into our farm family in early spring of 2003. We originally purchased Jak to keep Randall, an older Alpaca, company. There were also goat kids, and a group of lambs that were new to the front paddocks, and it had been recommended to get a guardian for the youngsters. So some 'experienced' farmer talked us into Jak. We took him off his hands and brought the kicking and spitting creature home.
Jak, was very good at his job, and would defend the paddocks against any and all predators. He despised stray dogs, fox and coyotes. He would alert us to any possible threat. His shrieking had a strange wailing quality and would get instant attention from us.
The most unique threat that he alerted us to was a huge snapping turtle that was nearly two feet across. The turtle for some reason decided to try and get in the paddocks, and could have easily broken the legs of a curious lamb. Jak's shrieking made me go and look in the weeds where it was trying to scramble under the fence. John had to figure out a safe way to move the turtle, and Jak was very pleased with himself about the whole event. He earned his grain that night happily.
He was big, ugly, ornery and would spit at you just as easily as he would stalk away. Jak, did not like anyone, and would not allow anyone to touch him. No petting this business only loner. Shearing him required a great amount of tranquilizers and was unpleasant for all of us.
Randall, the elderly alpaca, tolerated Jak's presence, and they kept each other company, sort of. After Randall passed several years ago, Jak, made friends with the sheep, and mainly became attached to our one pet sheep, BahBah (who's real name is Latte). In the past five years they were inseparable. It was a very touching relationship watching the two of them fret about the other.
Our many unpleasant encounters with Jak are legend within our household. In spite of the awful nature of our life with Jak, he held a special place in our hearts. John and Jak had a unique love-hate relationship. There was a lot of nasty spitting done in John's direction, but John managed to take very good care of him over the years. Never once, did we ever consider finding him new owners. He was our Jak.
The last couple of years slowed him down a bit. He had been losing his eyesight to cataracts, and was getting stiff and even crankier. But at the same time, he was more pleasant than he had been in his younger years. Pieces of apples were always welcome, and Danica found that he really loved stale marshmallows. Once in a great while he would even eat out of our hands.
In loving fond memory,
Farewell our friend. I hope there are green pastures, and sweet apples for you to eat, cut in nice little slices just the way you liked them.
Categories: Farm News, Farm Thoughts
/