Shopping Cart
Your Cart is Empty
There was an error with PayPal
Click here to try again
Thank you for your business!
You should be receiving an order confirmation from Paypal shortly.
Exit Shopping Cart
This is Barbara. She is one of our loose foraging bug patrol chickens. She just hatched a nice clutch of eggs. So we have cute peeps. Barbara has a story though.
She isn't one of our chickens. She suddenly appeared here about four months ago. She is a really pretty Dark Laced Brahma. I doubt she moved in of her own accord. Most likely, someone needed to find her a new home and saw our place with all our wandering chickens, and thought it would be a good place for her.
Well, that isn't how it works. They dropped this well cared for hen out of their vehicle, and left her to fend on her own. No secure pen, no regular food, no regular water.
Chickens are not nice. They don't allow new chickens to simply move in with them. The small bands of foragers, did not allow her to join them and chased her off at every turn.
We saw her, and recognized that she is not a 'fend for herself type of bird' but couldn't put her in the big pen for safety. A new chicken dropped into a large flock is normally killed by the flock to protect their own. So we had no choice but to let learn to be a chicken on her own.
We try and make sure she has a safe place to sleep in the barn and keep an eye on her, but we really can't do more than that. She stays with Maybelline and the Jersey calves. John tosses her some feed every so often - the other wanderers are pretty jealous.
Barbara decided she wanted her own flock. After a brief affair with a wandering gigolo rooster, she sat for 21 days and started her own. Good for Barbara.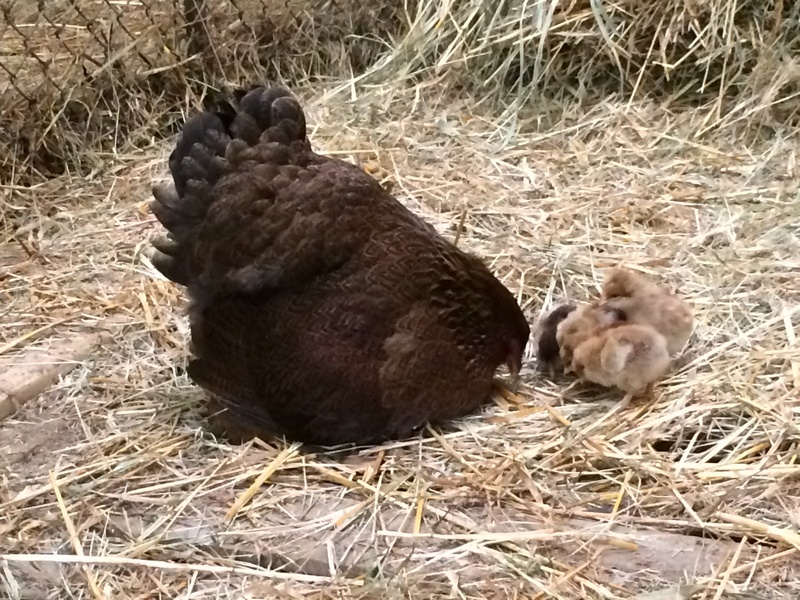 Categories: None
/