Shopping Cart
Your Cart is Empty
There was an error with PayPal
Click here to try again
Thank you for your business!
You should be receiving an order confirmation from Paypal shortly.
Exit Shopping Cart
The last several months from October until now have been a challenge on the gardening end of our spectrum. Early frost, COLD, snow, more cold, SNOW, even colder days with even more snow have created an additional workload that is hard to communicate. Our farm has been under a heavy blanket of the icy stuff since before Christmas time.
Each snow not only requires we clear the porches, walkways and driveway, but also the farmstand, barn yard, farm lane, gates, pasture gates, pathways to get to various pens and livestock and then my precious Elvira needs a place to go too.
Maybelline has had it with the snow. She can only get from her stall door to the water trough. It's far too slippery and icy for a gal 'with calf' to be walking about.
One of the biggest disappointments is that this heavy snow is making it impossible to get into the ravine where the maple grove is. We may not be able to get any sap at all. I keep hoping it will warm up enough and melt. That Hunterdon County maple syrup is really good.
All told, last year, was a very difficult year for growers across the entire region. I am pleased that our corn and melons grew very nicely in spite of the deluges and floods, and we did manage to grow enough to share with you. We had a bare minimum of beans, greens, cucumbers, zucchinis and squashes, and more to sell to you, my FARM FRIENDS. I was able to bring a good variety to the Holland Township Farmers' Market weekly. But, we did not have enough produce to stock my farmstand out front. *sigh*
In the last few months we constructed a 'high tunnel' aka 'hoop house' aka 'sort of like a green house' to start planting in this spring. We spent the last few months clearing it off after every snowfall and are waiting, rather impatiently to be able to plant in it. We intend on using this structure to extend our growing season both earlier and later every year, with the HOPE of also being able to grow some greens year round in it.
Right now, I am planting flats. Literally, thousands of seedlings are growing. The snow is creating issues with this too...we cannot get into the seedling greenhouse yet. The daily temperatures are far below normal so even if we did unbury it we would have to heat it constantly. So John (the ever resourceful John) has been hanging grow lights in the garage and we have flats out there too. It's a bit on the cool side, but not too cold. It may slow down the starts but it isn't cold enough to kill them off.
The 13 raised beds we installed last spring were a godsend with the floods last year and we will be installing at least another 13 this year. Garlic beds and other beds are greatly being expanded, and we hope to be able to grow twice as much as last year.
And then there are the chickens. The layers are doing just fine and for some unknown reason are feeling rather precocious. They are laying rather nice eggs, and lots of them. The younger hens are laying very well too. So we have some great boxes of ridiculously big eggs for you folks who like them that way.
The roasting chickens have been ordered - we upped the number by another 25% again...if we start having issues with not having enough chickens for the demand we have the option of adding another 100 to 200 at the end of the season. This year we will be getting the chicks from our old supplier. His breed has heavier breast meat and is a far superior eating chicken. I think you will all be happy.
And last, I am working on the hives. The bees did not like last year either. It was too wet (hard to collect pollen in the rain) and they did not fare well. I am rebuilding several of the hives this year.
Until next month, be well, keep warm, pray for no more snow. Thank you for being my Farm Friend.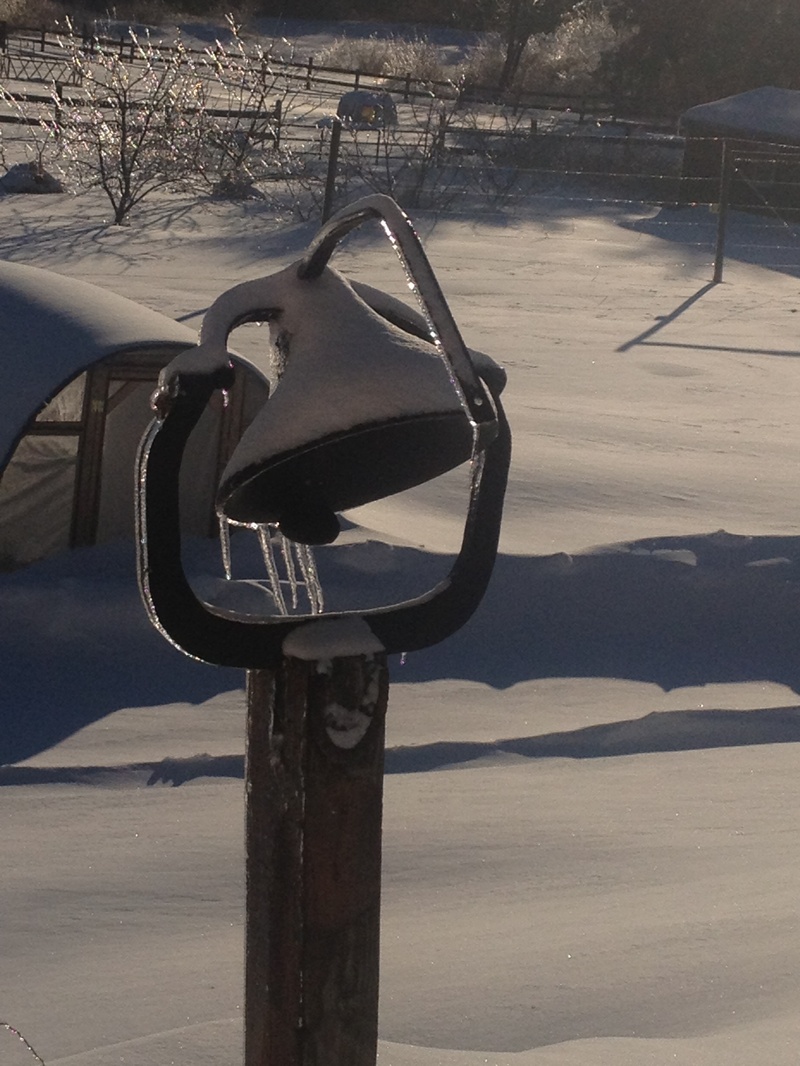 Categories: Farm News
/