Shopping Cart
Your Cart is Empty
There was an error with PayPal
Click here to try again
Thank you for your business!
You should be receiving an order confirmation from Paypal shortly.
Exit Shopping Cart
February 5th around midnight, I took a look out the window and it had started to snow yet again. The thermometer was twisted so I couldn't quite see the temperature. I open the door and step out onto the porch in my glittery slippers that I had gotten for Christmas (those of you who spend a lot of time with me know I wear slippers and a robe almost the entire day when I am in the house. I can be fully dressed but there is a robe and slippers…) I moved the thermometer and it read 24 F. Not bad considering January had so many days that were in the negatives. The lowest we got this year was -8 F. Bitterly cold. Horrid actually.
I had turned on the spotlights to see around so I stood still for a minute. It stretched into 3 or 4. Gorgeous. The snow was falling, things were glistening from the tiny crystals. What made me pause was the sounds. It was like a billion tiny little crystal chandeliers tinkling last night.
The snow the day before was heavy and silencing. There had been no real winds, just snow falling. It fell and actually muffled all the sounds around us.
This one was chiming. Tiny tinklings with each flake and it was rather pretty. I'll let you know just how pretty this will be in the morning.
Well the radio alarm went off. We couldn't see through the iced up screens and the newsman on the radio made it sound like the apocalypse was upon us. SNOW! SLEET! ICE! RAIN! FLOODING! Thousands without power! Towns ran out of salt!!!! Treacherous roads!!! STAY HOME! I was waiting to hear about locusts and frogs raining down from the skies.
We had 4 to 6 inches of snow in my area, maybe more, but the snow had changed to sleet, packing it down. In other areas, it was rain. The rain was flooding because the storm drains were packed with snow. The trees around here are icing up.
The coffee has been made. John and I worked out the plan for clearing. Timing with this one is important because the wet sleet was making a fabulous slush. Tonight it will freeze.
My biggest problem? There was a two foot drift on the patio porch. It was sleeting. Elvira doesn't like to go out in the rain let alone sleet, and when I opened that door and she saw the drift, she simply sat down. Nope. Nah. I can hold this.
In the kitchen she started complaining and telling me what to do. She talks a lot for a dog. Rumbling and mouthing out complaints. I asked – do you want me to go get a shovel? Shovel wasn't in her vocabulary and I could see in her eyes she was trying to decipher what shovel was…there was a fast decision that YEAH! I want you to get the shovel! It had to be better than the problem at hand!
So boots, coat, gloves and shovel, I went to attack that drift of heavy icy snow. She danced. She got out and did her morning business. Then danced some more as I shoveled. She knows a new word. SHOVEL. This is a picture of the drift...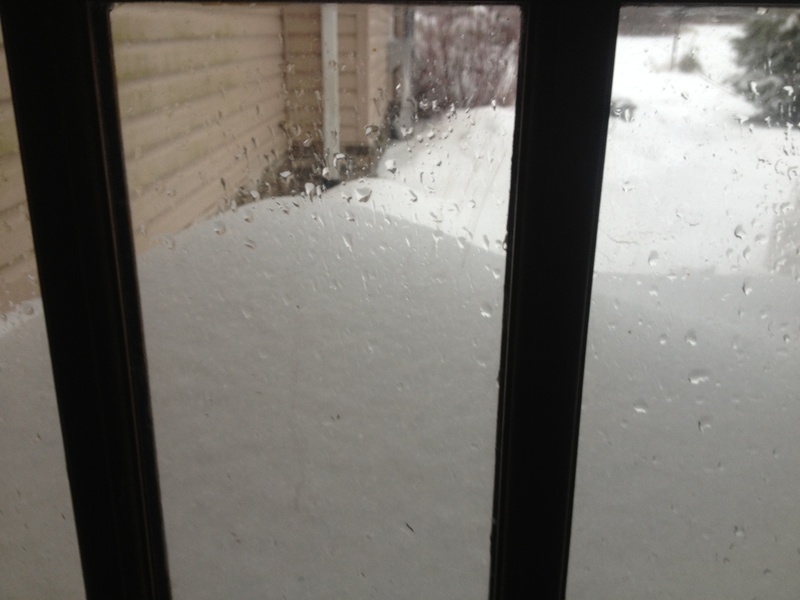 Categories: Farm Thoughts, Muddy Stuff
/