Shopping Cart
Your Cart is Empty
There was an error with PayPal
Click here to try again
Thank you for your business!
You should be receiving an order confirmation from Paypal shortly.
Exit Shopping Cart
Minerva (aka Minnie Moo) is six months old and now big enough to go play with the big cows. She has been bunking with Maybelline since she was two days old and needed a step mom. She was never halter trained because she was not going top be a dairy cow like Maybelline. Nor was she ever going to need to be led by a halter. She was going to be one of the beefers. This is a photo of tiny Minnie Moo. She isn't so tiny anymore and Maybelline thinks she should mooooove out.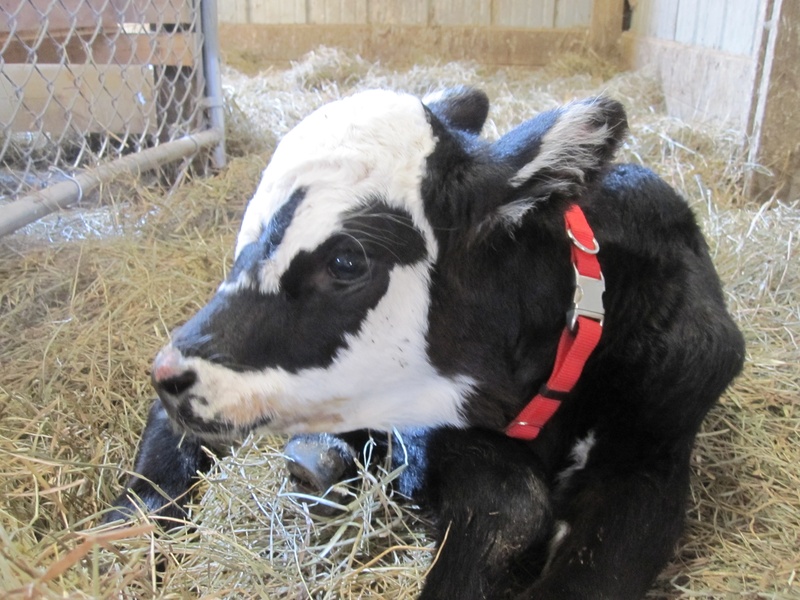 So here go John and myself, the ever intrepid fools that we are out to the barn with a heavy leash. Not too bad, slipped it over her head rather easily. Okay, we got a hold of her, went out the doors sort of walking her, got her to the big kids barn, in the front door and down the chute. Minnie then went in with the big cows. Not so bad. No one was really being too mean to her, just nosing her around a bit. Good. Of course no camera in my pocket.
Then she started to cry. I went to Maybelline's barn and finished feeding Maybell. Peaceful. John starts yelling to shut the gates! Minnie was coming back 'home' to Maybelline...It was rather easy to herd her home...she wanted to be with her 'mom'. This is not going to be fun. It's bad enough we have boomerang kids, but boomerang calves too?
Categories: Maybelline, Muddy Stuff, REMIND ME TO CARRY A CAMERA ALL THE TIME!
/