Shopping Cart
Your Cart is Empty
There was an error with PayPal
Click here to try again
Thank you for your business!
You should be receiving an order confirmation from Paypal shortly.
Exit Shopping Cart
It's Mid February already. I am done planning for this year. I actually did it all last October. We are now working our way through it.
This very long post, is broken down into a few parts - the changes we are making in our personal lives that impact the farm, and a recap of the past year's produce and then livestock. At the end is some planning for the year.
One of the biggest changes in our farm is that I have retired from my full time job. Hopefully, we will be able to get through the next year or two without much incident and I can pay my bills.
What this means to you my farm friends, is that I will actually have more time to be a farmer. I'll have to be even more thrifty and frugal than normal, but my days won't be divided into craziness and the stress of trying to service my clients and get my chores done. I may even get some sleep at night. It just makes sense at this point to eliminate the extra hours, and demands of full time real estate service.
This past year was hard enough balancing the workload, but then with John's injury, it became impossible on some days. My apologies if any of our own personal drama invaded your lives.
Oh, some of you may not know about John's injury. A quick synopsis: John is my heavy lifting guy. He operates the machinery, and does the hard stuff. Well, after the winter we had and all that snow last winter that needed clearing, over and over, every three days, he severely hurt his back. He uses mainly the equipment, and I do the manual shoveling, but it was too much.
Last April he had two fractured vertebrae, and a lot of disc issues and other painful spine problems. Things we normally do for the season were adapted or not done because of this. Our regular composting that we do never happened, because I do not run the big green tractor. Other things never happened at all. Some things we grow were neglected, and other things were never planted, because I was busy trying to do some of John's typical chores. He had limited ability to run the equipment, let alone walk upright for weeks. And by the way, I still have avoided using that giant green tractor. I will use the quad now, and am brave enough for a few of his tools, but that tractor is just plain too big.
In spite of all the problems we faced, we have chosen to continue this life. In fact, I am expanding what we do, and we have re-evaluated how we do things. Lots of trepidation here with the possibilities and always a plan B or even C or D will be explored.
Weather-wise, last year we were hit with a few other things, but we adapted and lived with the very late spring. The winter of 2014 impacted things like the asparagus harvest. We normally have about 6 weeks of the lovely spears to pick, but the extra cold ground cut that down to only about 3 weeks. My strawberry patch drowned in the ice pack and withered and died. Sigh.
Late spring caused a few other produce issues but the harvest is, what it is, every year. It was far better than the floods of 2013's spring.
Melons, squash, tomatoes, eggplants, and a few other things were either delayed due to the very cold August or they never got sweet. My blackberries were so confused by the weather they fruited a month late, and the cold days caused them to have no flavor.
Last winter was exhausting. This winter wasn't bad until recently. We have our flats of seeds started and we are starting more every week. THOUSANDS of seeds...
Last fall we had a month-long discussion on winter crops in the hoop house, but logic won out. We knew that we couldn't keep much going in there for the winter with our current capabilities. Also, every snow fall requires the hoop house to be cleared of snow. 2100 square feet of snowfall, and the sides have to be shoveled out too. Envision a balloon with the sides being pushed in - it always ends badly. Instead, we are working on early planting in there, and hopefully rehabbing it for winter crops in 2016.
On to beef, chickens, turkeys and Maybelline. The Beef quarter shares are sold out until fall 2015. I have two shares left. Thank you. There will be more ground beef in mid-June. Please order early when I announce it. It sells very fast.
Our cows are doing very well. Extremely well actually. Wellington the big Angus bull is home for the winter.
The laying hens are laying eggs and really liked the whey from cheese making this year. And we sold out on the roasting chickens in 2014. Over 400 of them. Thank you. They are really a good healthy chicken and I am glad you all enjoy them. We have already ordered this season's chickens...there will be more.
The turkeys kept us entertained out in the pasture. They are a truly funny animal to watch. They sold out for Thanksgiving very quickly with a short waiting list to boot. I am told that they are the very best turkeys that our customers have ever had. Most turkey farmers do not pasture them. We think it is vitally important to the turkey for both their well-being and the end result.
And then there is my Maybelline. Wow, what a year. John and Maybelline, both had major medical issues at the same time. We pulled her through and have been extremely diligent with her diet, and she is the picture of health. And the milk… It was glorious. I learned to make cheese.
The milk. My goodness, the milk. It is a wonderful thing. High protein, high fat and full of goodness. I learned to make some cheeses, and it took some experimenting. The yogurt is phenomenal. Maybelline at her peak was producing 7.5 gallons of milk a day. . She is dry right now, and getting very pregnant…a new calf…I cannot wait.
We started the drying off process at the end of December so that she can recharge and her system can properly feed the new calf that is coming this May. We milked her for about 10 months total before forcing her to rest.
If we started drying her off too soon, her system would have gotten out of whack and she could have gotten very ill. If we started the drying off too late she would have gotten too thin. So don't think that we are abusing her. Her system is delicately balanced and not allowing her metabolism to do what it was designed to do, will cause more harm than good.
If we treat her well, and allow her to have a calf every spring, she should live to a ripe old age of 16 or so. Commercial dairies don't quite do this. They push a lot harder and the cows are spent after less than ten years. I am looking forward to years and years with my Maybelline. She is such a sweet creature.
Wish us a heifer too. Little girl calves are the cutest.
For the Farm Friends 2015, we will have three pick up days this season, and there may be a delivery drop off in the Flemington/Kingwood areas once a week. Regular Farm Friend pick-ups will be Tuesday and Thursday evenings, and then Saturdays from 2 to 4 PM. We will be again doing the Holland Township Farmer's Market, and I am considering doing another.
One of the things I am committing to is some fruit. I have a wonderful intern, Kurt, who is helping me with this venture. In the past I had strawberries and blackberries, plus apples and peaches we use for our jams and other treats. We are redoing the beds, and the raspberries I had planted last year, may produce this summer. My orchard at the other property is getting it's early spring maintenance, and if we can get down the rocky slope into the maple grove we may even do more maple syrup this year. Last winter it was impassable, without carrying the 5 gallon pails of sap. The snow didn't melt until April there.
So much going on here – and you didn't know it until now. It looks quiet here in the winter but it really isn't.
Until next month, be well, keep warm, pray for no more snow. Thank you for being my Farm Friend.
Let's talk about Maple Syrup. It is one of those magical things that nature provides and we lucky humans figured out. In the dead of winter, nature has a lot happening that you don't see. One of them involves the trees.
Here, in New Jersey, after the coldest part of the year has passed, the days are starting to get longer, and warmer in February. This triggers the life cycle of the hardwood trees. They begin to draw up nutrients from deep in the soil and push them up the tree and into the branches to feed the buds. You can see the tips and buds swelling as the weeks go by...then in April and May they burst open with life.
The Sugar Maples, like all the other trees, go through this gentle quiet cycle, but with a difference - the sap is sweet and can be cooked down into syrup. They are a slow growing, gorgeous tree, and they have a particular climate they like to grow in...somewhere near a good stream or spring is best. We are lucky enough to have access to a few good trees. They are in a ravine with the most perfect picturesque brook running through it.
The ravine...It is pretty steep, and the photos don't do it justice. There is a drop of about 40 feet from the top to the lowest sugar maple we tap. The incline is close to 10 inches for every foot. The whole thing is a bit treacherous in good weather...not something you want to do with snow and ice. One of these days we should put some type of path in. There used to be a path, but it got overgrown in between various years and changes in life.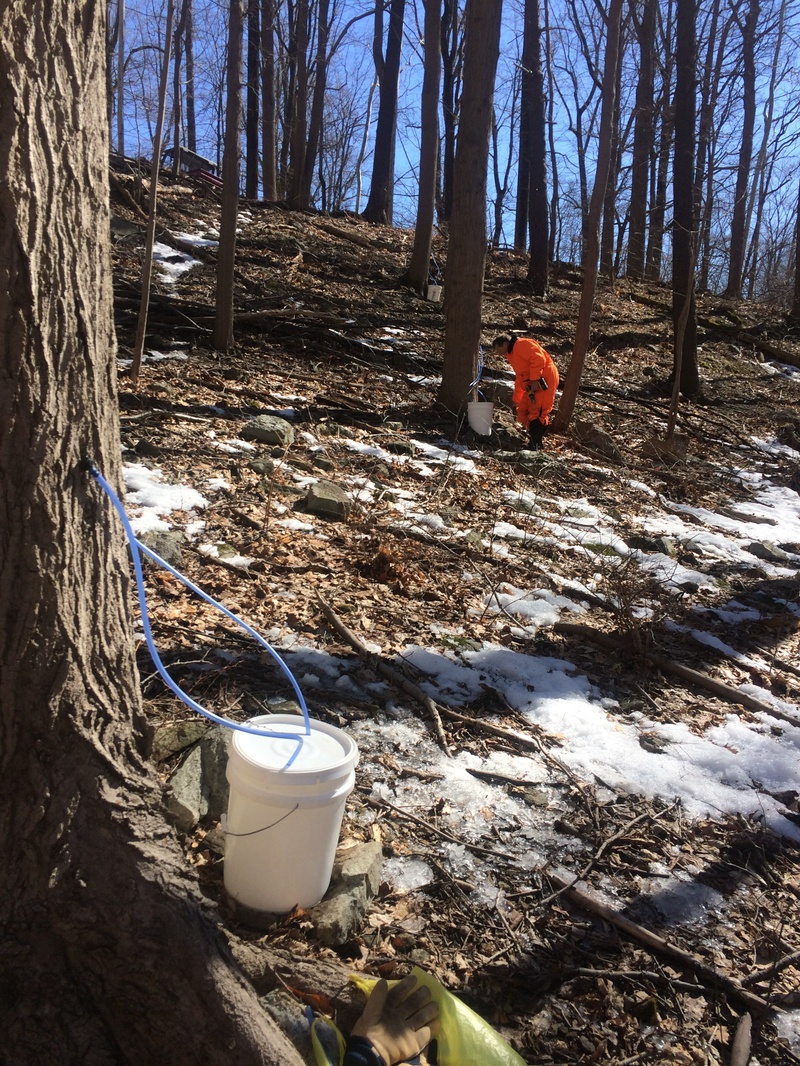 Last year, there was no way to get in there. February went by, and then all of March...It took until the second week of April last year for the ice to melt off enough to climb down there. It would have been impossible to haul 5 gallon buckets up that rocky icy slope. Plus, the sap season was over. Last year, 2014,  there was no sugaring done. This year? I was determined, as long as nature would let us.
The sap runs during the days that get above freezing, and the nights go below freezing. Generally, here in New Jersey, that is some time at the end of February. Well this year, there were NO days in February that met that criteria. It was unseasonably cold, with virtually every day being in the 20's if we were lucky. Plus, there was snow, lots of snow. Absolutely no way to get down there. I did a lot of pouting.
Then March came around. The beginning of March it snowed. And snowed again. And there was ice...but it was still a bit too cold. Then it thawed. We were lucky. Enough of the ice melted that we could get down there. It had stayed below freezing so the sap hadn't began to run. It would be a really short window, but we could get a week in before it got too late in the year.
The two of us fools, went out with the drill, the taps and the buckets, climbed down the ravine and tapped three trees. We only tapped three because it was late in the season and I have a lot going on at the end of March. I wouldn't have the time to boil down multiple batches of sap. Additionally, because it was late, we didn't want to steal too many nutrients from the trees. We want them to be healthy. The sap season was going to be short.
We tapped the trees. It is really neat, because as soon as you tap them, you can hear the sap dripping into the buckets. Blip,blip, blip...The sap only runs on days above freezing. We had three days, during that week, that it never went above 30F. The other days it was perfect weather. At night when the temperature drops the sap doesn't run. It was good. John hauled up the buckets and in two days we had 60 liters. Time to boil. It boiled for hours...hours...until we had our 6 cups of syrup. Yes, I said 6 cups from 60 liters. Then we collected enough on the second trip to make another 60 liter pot full...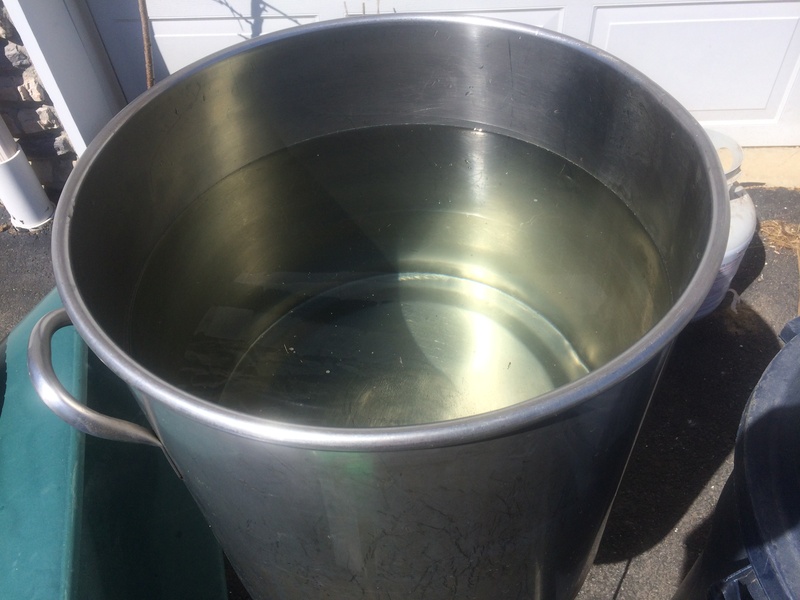 John and Kurt, plugged the trees, and brought home the buckets and taps. Oh yeah, plug the trees. You don't want to leave the holes open. It would be like a wound and just keep leaking. John takes a piece of wood the size of the hole and taps it in the hole to seal it up. The tree will grow around the litle stick and heal perfectly fine. First aid for the tree.
So we now have a dozen cups of syrup. Golden good syrup. We did get some this year. One weeks worth from three trees. It was almost 3 quarts worth of golden sweet syrup. It is pretty, isn't it?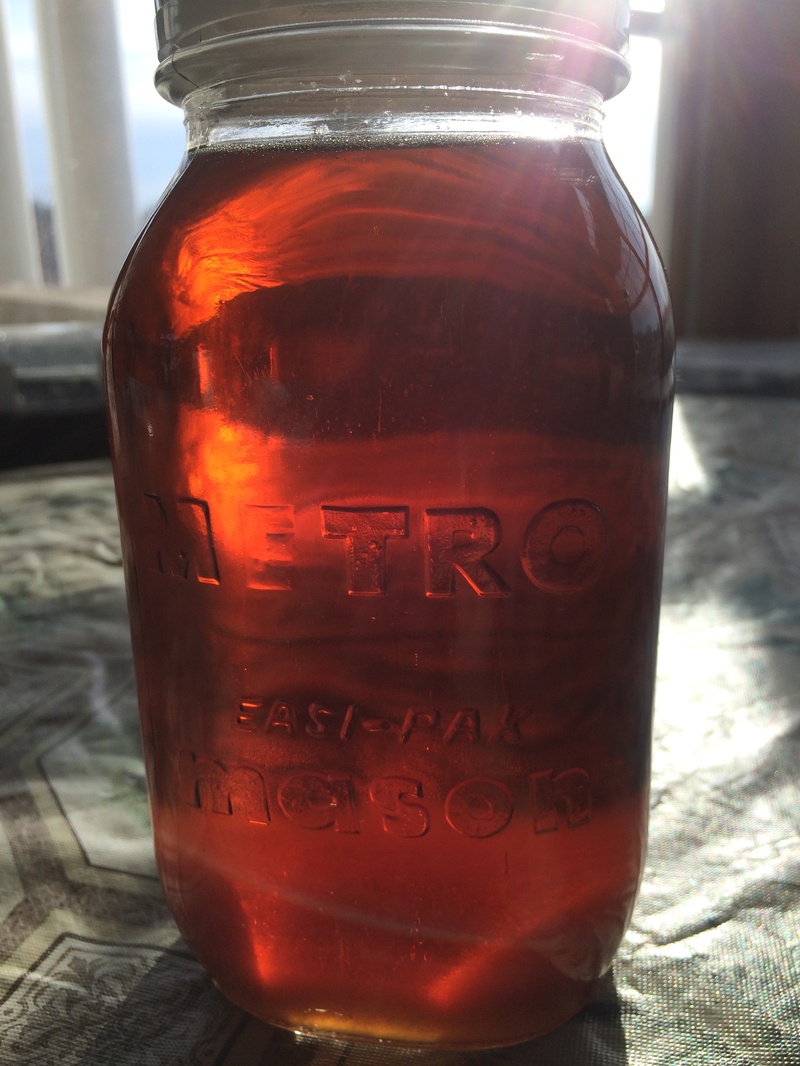 /