Shopping Cart
Your Cart is Empty
There was an error with PayPal
Click here to try again
Thank you for your business!
You should be receiving an order confirmation from Paypal shortly.
Exit Shopping Cart
We have two properties that we farm...our little 30 acre place - Jaklamas and another farm, that we are caretakers for. Our friendly neighbor's farm is over a hundred acres of gorgeous rolling land.
The house on it is over a hundred years old and there is this fabulous barn that was rebuilt a few years ago. A couple ponds, a real babbling brook, and views to die for.
This is where we hay, and have fruit. The old orchard on the property has some fabulous apple trees, and we are planting raspberries there too.
The previous owners had taken advantage of a natural feature of the place - a sugar maple grove. My dear friend Ellen, and her husband, Jeff, sugared. These two people are definite keepers and I find myself gushing about them ocassionally. They tapped the trees and boiled the sap. She then bottled and sold the maple syrup. I was in awe of them. I still am most of the time.
I also love the new family who owns the property. We couldn't be luckier than to have met these people. Really. The ability to have organic hay and fruit and more. They are the kindest, most thoughtful folks. I can continuously say how lucky we are over and over again and again. And I will again. We are lucky.
The new owners, more or less, let us make decisions for the property. We have discussions and then we do things.
One of the things for the past couple of years that was bugging me, was the fact that there was this grove of trees, an untapped resource as it were, that no one was using.
Jeff, the aforementioned fabulous guy, had visited last summer and showed us the grove and gave us some pointers...months ago. So I nudged John. It's time to learn how to sugar.
Just jumping in, with a fleeting memory from several months ago, of a hike through the woods, wouldn't be what most people would do, but it's what we do. I just dive right into something and learn as we go along. Let me assure you, this was no exception. We went through the barn and found the old equipment, gathered up a couple of buckets, and went into the woods on a cold day in February.
So, being prudent, in the assumption that I had no clue, we decided to start with just two trees.
We tapped the trees, set up tubes and buckets and waited. This is about when I decided to do some research on exactly how to tap, and when to tap, and what to do...of course it was after we started but somehow we had bumbled through and were doing it right. There was sap flowing.
Well we got enough sap in a couple days to make a batch of maple syrup. It takes 10 gallons to make about 4 cups of syrup...So we started boiling it. You have to do this outside because the amount of evaporation could grow some lovely mildew on your walls.
The first batch we had some issues...well not issues exactly. I wasn't watching when it got close to time for it to be done so I made some awesome candy. I added pecans to it and it will make an incredible ice cream - French Vanilla with Maple Pecan Brittle is in store for my friends...Jeff? Are you reading this? Of course Ellen, you and the not so wee anymore are going to get some too
The second batch however, is a lovely syrup. Now that I have the method down, I think we can do this next year on a bigger scale. There may be some great Jaklamas Maple Syrup for sale next spring.
Other thoughts are that we have to use a bonfire with the huge 50 gallon stainless steel vat to boil the sap down a bit. Doesn't everyone have a 50 gallon pot around? The amount of propane we used this year was criminal. Plus a whole host of other things we discovered on our own will make this a lot smoother...we hope.
Maple syrup info can be found in a lot of places...
http://www.youtube.com/watch?v=a83Yv2m6HKQ
http://www.howtomakemaplesyrup.com/tappingyourmapletrees.html
http://tapmytrees.com/coprsap.html
http://www.umext.maine.edu/onlinepubs/pdfpubs/7036.pdf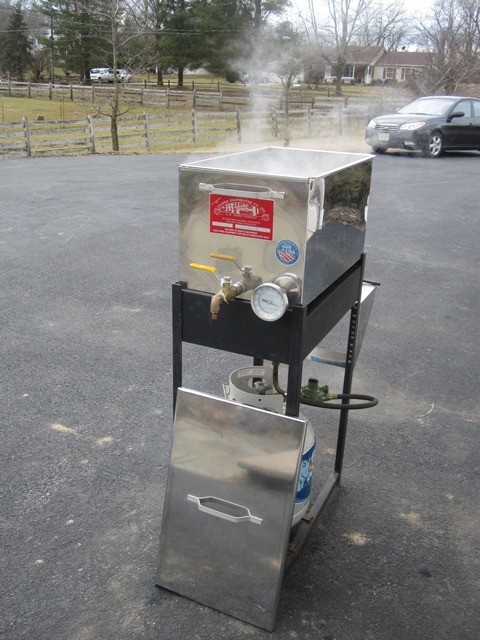 /